5 Comics That Will Make You Cry
June 6, 2015
Comics are an amazing medium, able to spark all sorts of different emotions in the readers. Sometimes it will be motivational, punch-the-air, evil-has-been-vanquished joy. Other times it may get you to ask all sorts of deep, existential questions of yourself.
And if you're a bit of a softy like me, there will be some comics that cause you to get all misty eyed and emotional. So to celebrate that, I've picked out five comics that brought a tear to my eye.
I Kill Giants – Joe Kelly/J.M. Ken Niimura
With a title like I Kill Giants, you perhaps wouldn't expect this comic to be quite as emotional as it is. But no comic I've ever read has hit me in the gut quite as hard as this one.
The story follows a troubled little girl called Barbara who, in the words of Kelly, "has taken her fantasy life a little far". All she talks about is how she goes about taking down these awful giants who are supposedly attacking her neighbourhood, unbeknownst to anyone else.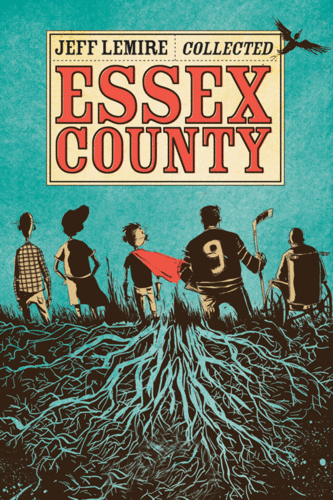 It's always clear that the giants are a representation of something else that's upsetting Barbara, and when we get the reveal and the resolution, it's just beautiful. You have to have a heart of stone not to be moved by this book.
Excitingly, I Kill Giants looks to be set for the big screen. Matching the quality of the comic book will be a big ask.
Essex County – Jeff Lemire
Jeff Lemire is a master when it comes tugging at my heartstrings. Nobody is quite as talented at writing about families and the complications they bring. I could easily have picked The Underwater Welder for this list, which also caused my shoulders to heave, but I've gone for Essex County because Lemire has managed to create an entire world which drew me in and broke my heart.
Across three stories, Lemire covers everything from fatherhood and sibling rivalry to infidelity and mental deterioration, all within a single, small community and intersecting stories.
It's an extraordinary piece of work and absolutely required reading for anyone who loves comics.
All-Star Superman – Grant Morrison, Frank Quitely
The big, blue boy scout is not known for reducing grown men to tears, but Morrison and Quitely's magnificent mini-series is not any old Superman story.
This is a telling of Superman's final days, what a living god chooses to do when he knows his time is short. There is a beautiful couple of panels in which Superman saves a girl about to commit suicide, and reassures her that she is not alone, and that there is hope. They perfectly represent the hope that the Man of Steel represents to me.
However, that didn't make me cry. Issue #6, titled Funeral in Smallville, is the one that reduced me to a blubbering mess. I won't say any more lest I spoil it, but it is both beautiful and crushing in equal measure.
We3 – Grant Morrison, Frank Quitely
Clearly the Morrison and Quitely team know how to yank at my heartstrings.
We3 is an odd little book really. The three issues tell the story of three animals who have been turned into weapons, as they make a break for freedom.
Shockingly violent, it's like Robocop meets Homeward Bound. It's also extraordinarily touching. I wouldn't describe myself as an animal lover – I love dogs as much as the next guy, but cats and rabbits don't do a lot for me. Yet their desperate search for home and safety struck a chord.
We3 is one of those comics, much like I Kill Giants, that I always recommend to non-comic readers who are keen to give them a go. Hands down one of my favourite books.
Y: The Last Man – Brian K. Vaughan, Pia Guerra
Y: The Last Man is revered as one of those must-read comic series, and with good reason. It's a phenomenal tale of a world in which seemingly every male human or animal has died, bar Yorick and his pet monkey, and how that changes things.
The strength of the series is not just its brilliant premise, but on the relationships between the central characters.
The concluding arc may not be the most satisfying part of the story, but it caused me to break down more than once. A masterclass in emotional storytelling.